4 Ways to Build Gold Medal Teams that Power Company Culture
External Article | Accountability Insights
There is no "I" in team. We all need the support of others. The greatest wins come when people join together to overcome tremendous odds or collaborate to bring something amazing to the world. It's no different in business.
We all have been part of a team in our lives; you're likely part of one now. As you think about those teams, some were probably great experiences and achieved tremendous results, while others maybe not so much.What makes the difference? What makes some teams successful and others not?
Based on our experience working with world-class teams, from small startups and Fortune 50 organizations to being a member of a gold medal Olympic volleyball team, we want to share what we have seen work on the court and in the corporate world.
Lead by Example
In a recent study conducted by Partners In Leadership evaluating workplace accountability and where successful culture change within organizations was the focus, two-thirds of those surveyed said executive team development would be critical to making any change happen and stick. Ensuring that executives lead by example and effectively collaborate as a team is essential to the success of any organizational initiative.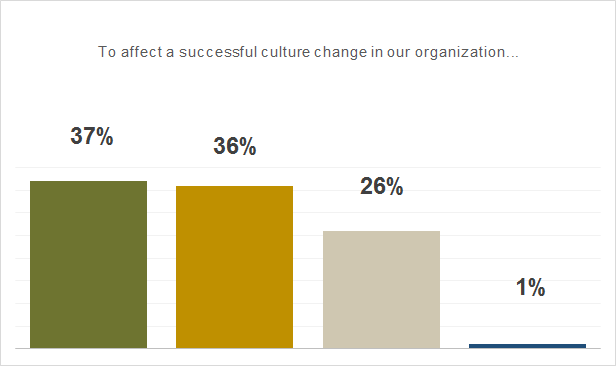 37 percent said, "Our management team will need to develop competency in the skills needed to shift culture."
36 percent said, "Executive team development would be critical to making the change happen."
26 percent said, "A major concern would be the ability to get the management team 'up to speed' in knowing how to make this happen."
1 percent said, "None apply."
The Right Culture
The 2004 Los Angeles Lakers started the 2004 NBA season with Kobe Bryant, Shaquille O'Neal, Karl Malone, and Gary Payton—four future Hall of Famers—with one of the NBA's most decorated coaches: Phil Jackson. They were the favorites to win the 2004 NBA Title but fell short of the prize.
Want to strengthen your ability to develop a "gold medal" team?
How did that happen? Simply put, what seemed to be a sound strategy on the surface was undermined by what many later would describe as a culture that stunk. Players and coaches let egos battle and differing beliefs in execution trump all else, leaving them short of the championship. Failing teams lack direction and purpose. They come up with excuses as to why they aren't delivering and seldom demonstrate ownership for desired outcomes. Ultimately, failing teams have little to no accountability when it comes to delivering the right result, simply because they missed it from the get-go.
Winning Teams
During the 2008 Olympic Games in Beijing China, the USA Men's Volleyball Team, including middle-blocker Ryan Millar (co-author of this article), overcame tragic circumstances and incredible odds to win the Olympic gold medal. Hours before the first whistle of the team's first game, the father-in-law of U.S. Men's Volleyball Team's head coach, Hugh McCutcheon, was killed in Beijing while supporting the U.S. Team. While devastating to the coach and players, the team came together to focus on the task at hand. They chose to rise above horrific circumstances in order to achieve the results they wanted—desired results that would propel them to greatness. (View the full video to understand the tragic circumstances that hit the team just hours before their first whistle.)
The team finished the 2008 Olympics with a perfect 8-0 record, despite not being initially favored and having to ultimately defeat top-seeded Brazil—as well as the #2, #4, and #5 teams in the world. Their commitment to team and ability to execute to the very end was the deciding factor for greatness.
How did they do this? Focus, feedback, follow-through, and finish.
The team was able to make quick course corrections, even during match play itself. The system that had been put in place worked to perfection. Everyone had a clear understanding of who was responsible for what, how they were going to perform that task, and what the end results would look like—in their case, a gold medal hanging from every neck.
Building a Gold Medal Team
Building a gold medal team includes four steps:
Focus: The first characteristic of a high-performing team is the ability to set a clear direction. In fact, it makes little sense to try and change anything without first clearly identifying what you want to change it to—the results (outcomes) you want and need to deliver. Some 84 percent of respondents in the Workplace Accountability Study said that they were not clear on what their organizations were trying to achieve. 84 percent! Remember, your culture produces your results, and your level of accountability determines the pace and effectiveness of your performance improvement.
Feedback: Engage in it. The greatest athletes, and coincidentally the greatest business leaders, in the world all have coaches. Why? Because the coaches help them see things they don't. They constantly give them feedback and coaching to help improve their performance.
Follow-Through: Ask what, who, when, where, why, how often, and what is our check-in? How are we measuring progress? This one is pretty self-explanatory: When progress is measured, progress improves. When progress is measured and reported back, progress accelerates. Try playing volleyball or any other sport without keeping score; interest wanes pretty fast!
Finish: What is your finish line? Having a finish line or an end-goal might seem like common sense, but unfortunately we've found that not having one is fairly common. Many organizations are going 90 mph, but they're not sure where they are headed or what the finish line really is. Imagine the confusion that arises and the employee disengagement that spreads when no clear finish line is articulated.
Focus, Feedback, Follow-Through, and Finish. Apply these steps to any team today and move from the mundane, wandering, and ineffective to aligned, vibrant, gold medal winners—the kind of team everyone talks about and wants to be a part of.